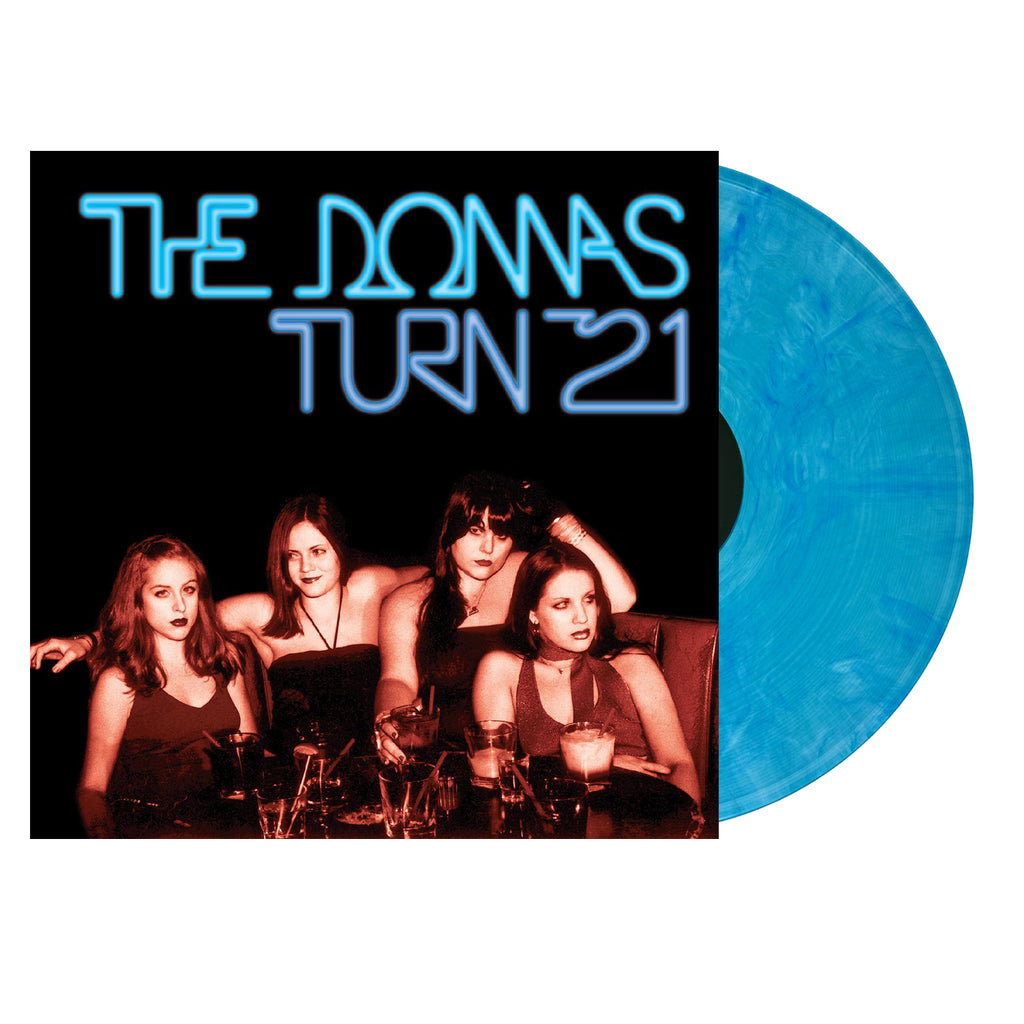 The Donnas Turn 21 LP
Web Exclusive is LIMITED TO 1 PER CUSTOMER/HOUSEHOLD IF YOU PURCHASE MORE THAN 1 YOU WILL BE REFUNDED.
The Donnas: Turn 21 (Limited Powder Blue with Black Swirl Vinyl Edition)  LP Web Store Exclusive Limited to 150
The Donnas: Turn 21 (Ice Queen Vinyl Edition) LP Regular Version
Blessed with a formidable front woman in Brett Anderson, a guitar heroine in Allison Robertson, and a pummeling rhythm section in bassist Maya Ford and drummer Torry Castellano, The Donnas were one of the greatest punk bands of the '90s, male or female, bringing a uniquely hedonistic yet feminist viewpoint to the genre. Now, with the full cooperation of the band, Real Gone Music is reissuing their first four albums on vinyl. With the release of 2001's Turn 21, the band was legal, and God help you if you tried to keep up with them if they showed up at your neighborhood local. Which they just might have…cuz this 2001 album chronicled the highs and lows of being on tour and on the prowl with songs like "40 Boys in 40 Nights." It also captured the full emergence of Allison Robertson as a guitar goddess, joining Angus Young as an officiant at the marriage of Gibson and Marshall. It's no wonder, then, that this album led to The Donnas' signing with Atlantic…these women-no-longer-girls were ready for the major leagues. Includes an LP-sized insert (instead of the original's CD booklet) featuring added band commentary. Remastered for vinyl by Mike Milchner at Sonic Vision…and pressed in Blue "Ice Queen" vinyl!
A1. Are You Gonna Move It
A2. Do You Wanna Hit It
A3. 40 Boys in 40 Nights
A4. Play My Game
A5. Midnite Snack
A6. Drivin' Thru My Heart
A7. You've Got a Crush on Me
B1. Little Boy
B2. Don't Get Me Busted
B3. Police Blitz
B4. Hot Pants
B5. Gimme a Ride
B6. Living After Midnight
B7. Nothing to Do