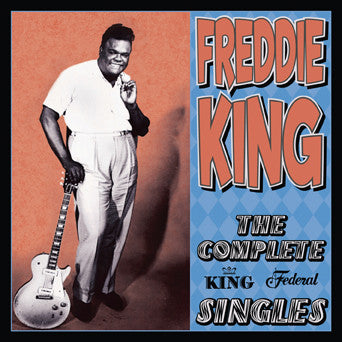 Freddie King (2CD Set)
FREDDIE KING: The Complete King/Federal Singles (2-CD Set)
First-Ever Compilation Devoted to Freddie King's King-Federal Singles, the Recordings That Made Him a Star 

54 Tracks, 155 Minutes 

Includes Such Hits as "Hideaway," "Lonesome Whistle Blues," "San-Ho-Zay!" and "I'm Tore Down" 

Liner Notes by Freddie King Expert Bill Dahl 

Added Photos 

Pristine Remastering by Jürgen Crasser 

The Texas Cannonball Was a Huge Influence on Such British Guitar Gods as Eric Clapton, Jeff Beck, Peter Green & Mick Taylor 
Rolling Stone ranked him the #15 greatest guitarist of all time. His sharp treble tone, hooky melodic licks and innovative fingerpicking style—using metal banjo picks on electric guitar—were a profound influence on such British guitar gods as Eric Clapton, Jeff Beck, Peter Green and Mick Taylor. And his live performances were so incendiary, so unstoppable—and his build so imposing—that he was nicknamed "The Texas Cannonball." Yet to date, no collection has focused on the original single sides Freddy King cut for the King and Federal labels in the '60s, the blistering tracks that made his reputation and continue to be the centerpiece of his recorded legacy. Now, Real Gone Music has rounded up all 54 of those original single sides and carefully packed them on to two CDs for about 155 minutes of pure blues guitar heat, featuring such hits as "Hideaway," "Lonesome Whistle Blues," "San-Ho-Zay!" and "I'm Tore Down." Notes by Freddie King expert Bill Dahl, photos and pristine mastering by Jurgen Crasser complete as concentrated a dose of blues guitar greatness as you will ever find.
Tracks:
Disc One
1.   You've Got to Love Her with a  Feeling
2.   Have You Ever Loved a Woman
3.   Hideaway
4.   I Love the Woman
5.   Lonesome Whistle Blues
6.   It's Too Bad Things Are Going So Tough
7.   San-Ho-Zay!
8.   See See Baby
9.   I'm Tore Down
10. Sen-Sa-Shun
11. Christmas Tears
12. I Hear Jingle Bells
13. If You Believe (in What You Do)
14. Heads Up
15. Takin' Care of Business
16. The Stumble
17. Side Tracked
18. Sittin' on the Boat Dock
19. Do the President Twist
20. What About Love
21. Texas Oil
22. Come On
23. Just Pickin'
24. (Let Your Love) Watch over Me
25. You Can't Hide
26. In the Open
27. I'm on My Way to Atlanta
Disc Two
1.   It's Easy, Child
2.   The Bossa Nova Watusi Twist
3.   Look, Ma, I'm Cryin'
4.   (I'd Love to) Make Love to You
5.   One Hundred Years
6.   (The Welfare) Turns Its Back on You
7.   You're Barkin' Up the Wrong Tree
8.   Surf Monkey
9.   Monkey Donkey
10. Meet Me at the Station
11. King-A-Ling
12. Driving Sideways
13. Someday, After Awhile (You'll Be Sorry)
14. She Put the Whammy on Me
15. High Rise
16. Now I've Got a Woman
17. Onion Rings
18. Some Other Day, Some Other Time
19. Manhole
20. If You Have It
21. I Love You More Everyday
22. Full Time Love
23. She's The One
24. Use What You've Got
25. Double Eyed Whammy
26. You've Got Me Licked
27. Girl from Kookamunga