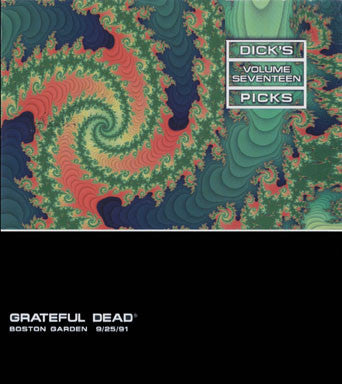 Grateful Dead: Dick's Picks 17
GRATEFUL DEAD: Dick's Picks Vol. 17—Boston Garden 9/25/91 (3-CD Set)
The Legendary Series of Live Grateful Dead Shows, Handpicked from the Vault 

Dick's Picks Vol. 17 Captures the Twin Keyboard Line-Up of Bruce Hornsby and Vince Welnick 

Includes a Full Show from the Boston Garden and a Bonus Half Hour from Greensboro, NC 

Features the Band's First-Ever Performance of Paul McCartney's "That Would Be Something" and the First Appearance on Record of Dylan's "The Mighty Quinn" 

Prime, Late-Period Dead, Out of Print for Years! 
This Pick was, at the time it was released, chronologically the latest live show in the Grateful Dead discography, and it's still the second latest concert to be officially released in their vast library. And it chronicles a very special period in Dead history, when Bruce Hornsby sat in with the band to form, along with former Tube Vince Welnick, a formidable, two-pronged keyboard attack. This particular volume—culled from a complete 9/25/91 show at the Boston Garden (a consistently good "stadium" venue for the band) and a bonus half hour from a 3/31/91 show in Greensboro, NC—is also notable for including the first-ever performance of Paul McCartney's  "That Would Be Something" and the first-ever appearance of Dylan's "The Mighty Quinn" on a Dead album. Add to that the stunning, 23-minute version of "Eyes of the World" that caps off the third disc and Dick's Picks Vol. 17 is a exemplary document of late-period Dead. Out of print for years!
SONGS:
Disc One
Set One
1. Help on the Way
2. Slipknot!
3. Franklin's Tower
4. Walkin' Blues
5. It Must Have Been the Roses
6. Dire Wolf
7. Queen Jane Approximately
8. Tennessee Jed
9. The Music Never Stopped
Disc Two
Set Two
1. Victim or the Crime
2. Crazy Fingers
3. Playing in the Band
4. Terrapin Station
5. Boston Clam Jam
6. Drums
7. Space
Disc Three
Set Two (cont.)
1. That Would Be Something
2. Playing in the Band
3. China Doll
4. Throwing Stones
5. Not Fade Away
6. The Mighty Quinn 
Bonus Material from Greensboro, NC 3/31/91
7. Samson and Delilah
8. Eyes of the World