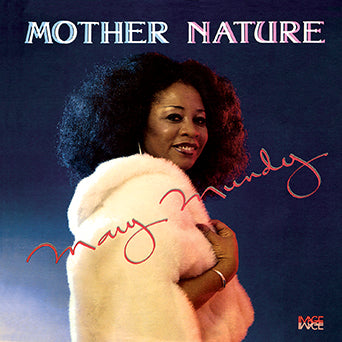 Mary Mundy Mother Nature LP
WEBSTORE EXCLUSIVE VARIANT IS LIMITED TO 1 PER CUSTOMER/HOUSEHOLD IF YOU PURCHASE MORE THAN 1 YOU WILL BE REFUNDED.
Mary Mundy: Mother Nature (Limited "Purple Rain" Vinyl Edition) LP Real Gone Music Webstore Exclusive LIMITED TO 100 COPIES 
Mary Mundy: Mother Nature (Limited Pink Vinyl Edition) LP Regular Version
Lord knows we have put out some rare R&B records here at Real Gone Music, but this one may take the cake! Mary Mundy's 1980 album for the obscure Image label goes for hundreds of bucks if you can find it at all (which, as of this writing, you can't). Loaded with bass-heavy, disco-soul grooves over which Mundy's voice floats like a butterfly and stings like a bee, Mother Nature lives up to the collector hype. That Mundy's discography consists of this album and a few scattered singles just adds to the mystique of this intriguing one-off, which sees its first reissue in any format here. Remastered for vinyl by Mike Milchner at Sonic Vision. We're only making 1000 copies and you better not tarry…pink vinyl pressing!
A1. Love Me, Love Me
A2. You Put a Hurtin' on Me
A3. I Can't Stop Dancin'
B1. Each Other
B2. Mother Nature
B3. Take Me in Your Arms
B4. The Ride Is Over