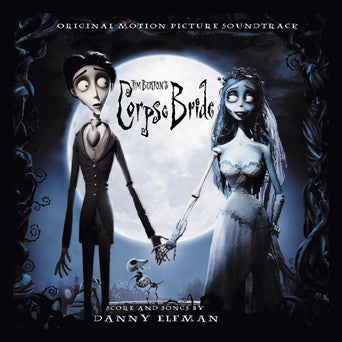 Danny Elfman Corpse Bride Soundtrack 2-LP Set
THIS IS A PRE-ORDER. THE ITEM WILL SHIP BEFORE THE 10/04/23 STREET DATE. PLEASE NOTE BY PRE-ORDERING THIS ITEM YOU WILL BE CHARGED FOR IT NOW. WHEN ORDERING PLEASE ONLY PURCHASE 10/04/23  ITEMS ON YOUR ORDER. IF YOU WANT TO ORDER OTHER ITEMS PLEASE ORDER ON ANOTHER ORDER SO THOSE ITEMS ARE NOT DELAYED. Please Note: The industry is experiencing longer turnaround times than usual. Expected shipping dates are based on encountering no unexpected delays due to manufacturing issues or shipping back-ups and are subject to change. Images are mockups and may vary from finished product.
It's not too soon to put Tim Burton and Danny Elfman on the short list of the greatest director-composer collaborations in history, right up there with Hitchcock-Herrmann, Spielberg-Williams, Leone-Morricone, and Demy-Legrand. And Elfman's score to this 2005 stop-motion animated gem is one of his best, displaying his amazing versatility and boundless emotional range with numbers that range from somber chamber music ("Victor's Piano Music") to darkly macabre yet somehow jaunty pieces ("Remains of the Day"). And let's not forget the swing jazz homages performed by Bonejangles (a.k.a. Elfman) and His Bone Boys as bonus tracks (or should that be bone-us tracks?)! We've, er, exhumed this fantastic soundtrack for its first-ever LP reissue in moonlit vinyl with a full-color insert. 2-LP set limited to 1250 copies!
A1. Main Titles
A2. According to Plan (Performed by Albert Finney, Joanna Lumley, Tracey Ullman, and Paul Whitehouse)
A3. Victor's Piano Solo
A4. Into the Forest
A5. Remains of the Day (Performed by Danny Elfman)
B1. Casting a Spell
B2. Moon Dance
B3. Victor's Deception
B4. Tears to Shed (Performed by Helena Bonham Carter, Jane Horrocks, and Enn Reitel)
B5. Victoria's Escape
B6. The New Piano Duet
B7. New Arrival
C1. Victoria's Wedding
C2. The Wedding Song (Performed by Danny Elfman, Jane Horrocks, Paul Baker, Alison Jiear, and Gary Martin)
C3. The Party Arrives
C4. Victor's Wedding
C5. Barkis's Bummer
C6. The Finale
D1. End Credits Part 1
D2. End Credits Part 2
D3. Bonus Tracks from Bonejangles and his Bone Boys
D4. Ball & Socket Lounge Music #1 (Band Version)
D5. Remains of the Day (Combo Lounge Version)
D6. Ball & Socket Lounge Music #2
D7. Ball & Socket Lounge Music #1 (Combo Version)